One of the key factors in choosing a truck is figuring out what you're going to need it for. If you're using it for commuting and small weekend tasks, you won't need the same amount of towing and hauling power you would need if you were using it every day for farm work, construction work, or towing boats and campers on long weekends.
The Toyota Tacoma and Toyota Tundra are household names when it comes to reliable power in the form of a truck. Both offer significant capabilities on and off the road, and both can be used for hauling equiptment, landscaping, or multiple passengers. With so many similarities, it can seem like a touch choice between the two. So which truck should you buy?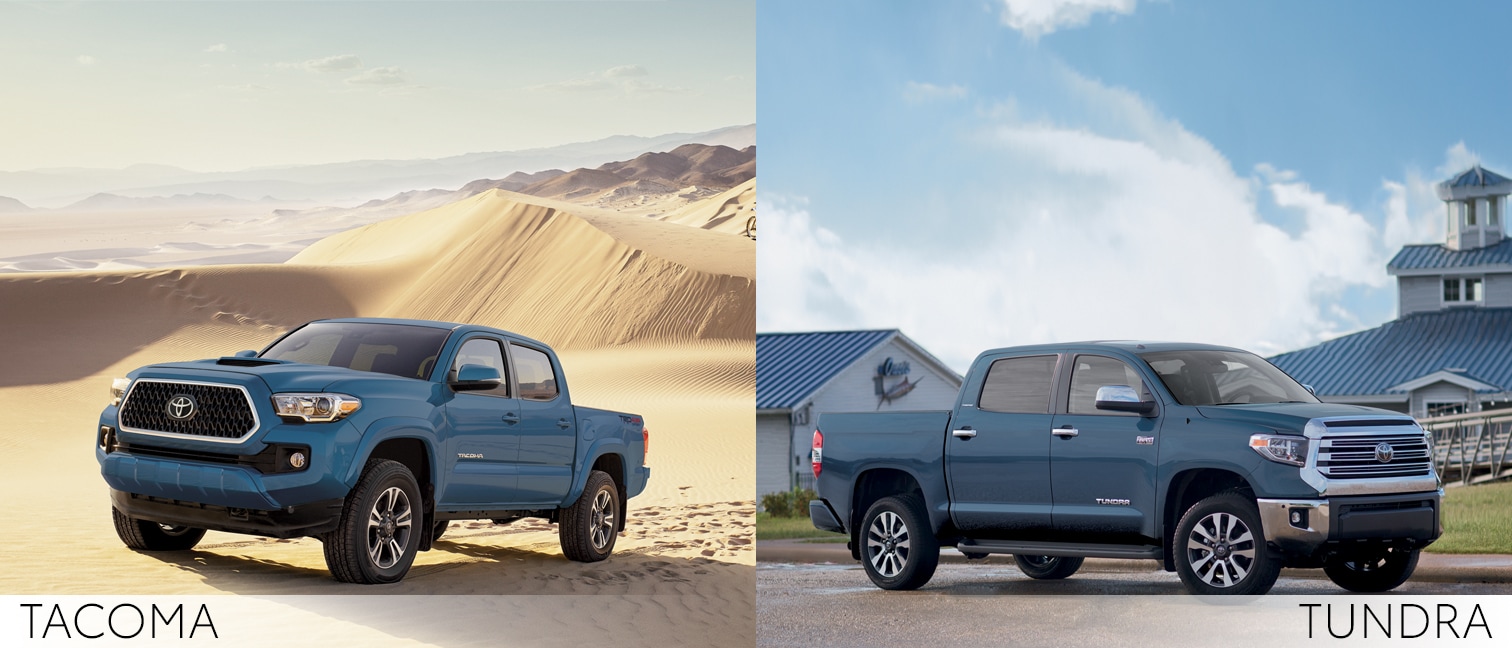 Is the Toyota Tacoma or Tundra a more powerful vehicle?
As a full-size pick-up, the 2019 Toyota Tundra features a bit more pulling power. With the standard 4.6-liter V8, you get 310 horsepower and 327 lb-ft of torque on tap, some pretty potent numbers. Only available with a Standard Bed, it can tow up to 6,800 pounds - perfect for towing smaller camper trailers and plenty of gear to the sites past Hazleton and Reading. If that isn't enough, you can upgrade to the 5.7-liter V8, which raises power output to 381 horsepower and 401 lb-ft of torque. Towing potential gets a massive boost, as with this engine the Tundra can tow up to 10,200 pounds, depending on if you want two- or four-wheel drive, and how big of a box you want on the back.
While the 2019 Toyota Tacoma can't match those towing and hauling numbers, it does have pint-sized power. The base engine is an efficient 2.7-liter inline four-cylinder, offering 159 horsepower and 180 lb-ft of torque. Even with low power numbers, it still puts in work - with 3,500 pounds of maximum towing capacity, it's perfect for towing smaller boats and off-road vehicles. With 278 horsepower and 265 lb-ft of torque, the available 3.5-liter V6 gives the Tacoma a great power-to-weight ratio, and makes it a solid bet for towing and hauling. With a maximum towing capacity of 6,800 pounds, it's right up there with the base level Tundra.
Both the Tundra and Tacoma are available with two- or four-wheel drive, but considering how the weather can get in the region and some of the road conditions - or lack of roads, if you're really adventurous - four-wheel drive is generally the way to go. If you love playing in the mud, the Tacoma offers the TRD Off-Road and TRD PRO trims, featuring trail-ready capabilities and agility. While the Tundra also offers the TRD PRO trim for some trail and field capabilities, it just doesn't have the go-anywhere mindset of the Tacoma.